Sophos UTM Reporting
WebSpy Vantage is the perfect Sophos UTM reporting complement. Simply configure syslogging for HTTP/S traffic, import these logs into WebSpy Vantage and you have all the information you need to troubleshoot, optimize and investigate web browsing activity.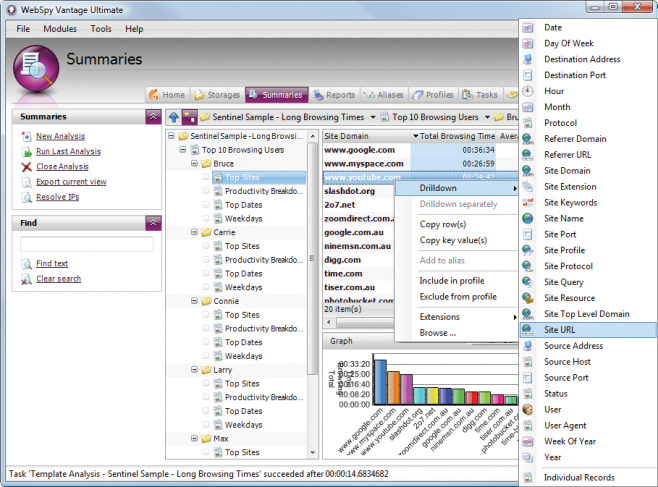 10 Reasons to Use WebSpy Vantage for your Sophos UTM Reporting
Active Directory (LDAP) Integration

WebSpy Vantage easily import your company's organizational structure, managerial hierarchy, department and user information from any LDAP compatible directory server using the 'Import from LDAP' wizard (including Microsoft® Active Directory and Novell® eDirectory).

Report Customization

Highly customizable report template system ensures you can obtain the report you want, the way you want it. Choose from a comprehensive list of web, email, network and security reports or create your own custom report templates from scratch.

Logical Grouping Using Aliases

Using aliases, such as Websites or Departments, web traffic can be broken down into logical reporting units, which enables easier analysis of data. For example, group similar sites, such as facebook.com and fbcdn.com, or youtube.com and ytimg.com, to ensure accurate traffic reporting to those websites. Find out more…

Powerful Drilldown Capabilities

WebSpy's solutions are able to provide drilldown capabilities on all traffic, enabling detailed analysis and reporting.

Securely Distribute Information & Responsibility

WebSpy's solutions allow you to securely distribute and share information with other staff members. Using WebSpy Vantage Ultimate's web module, you can securely distribute reports and storages to department managers, who then have the responsibility of enforcing acceptable usage within their team.

Customizable Website Categorization

WebSpy can analyze URL categories, as well as classify web sites based on a comprehensive set of customizable keywords. You can categorize your own sites easily by adding your own unique keywords based on content category (News, Entertainment, Adult) or appropriateness (Work Related, Non-work related).

Filter out Irrelevant Traffic

WebSpy's solutions can filter data that may otherwise skew results. Pop-ups and website sub-domains that can affect the accuracy of browsing behavior can be easily filtered out or aliased, giving you a far more accurate picture of how the web is being used.

Policy Based Reporting

WebSpy's solutions can selectively monitor and report based on your organization's guidelines, ensuring privacy for compliant users. Through the use of exception based reporting, or queries such as "users with browsing time longer than 30 minutes", the solutions provide information on only those users who have breached the usage policy.

Automated Reporting

Reports can conveniently be automatically produced on daily, weekly, monthly or yearly basis using WebSpy's automated task scheduling.

Vendor Neutral

In addition to Sophos UTM reporting, using Sophos logs, WebSpy Vantage can report on more than 200 log formats from different vendors. This means WebSpy users only need one application to achieve all reporting requirements, spending less on software maintenance, hardware and administration.
How To – Sophos UTM Reporting with WebSpy Vantage 
How To – Sophos Web Protection Appliance Reporting with WebSpy Vantage 